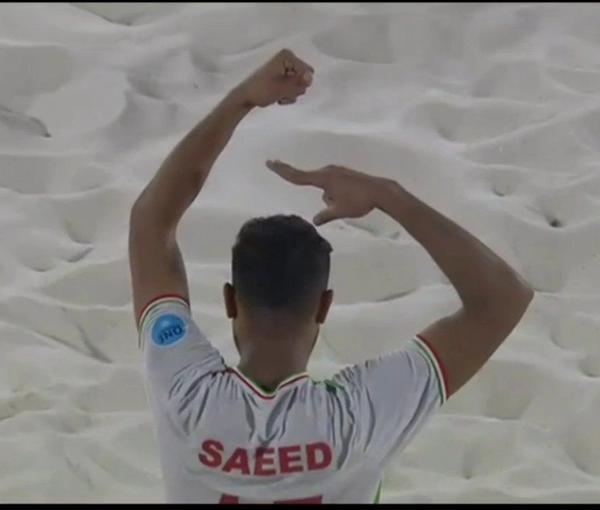 Iranian Athletes Pose New Dilemma For Clerical Regime
Iranian athletes are displaying their solidarity with protesters at international games despite threats of punishment, forcing the regime to decide whether to compete or not.
When he scored a goal in the final of the Intercontinental Beach Soccer Cup at Cottage Beach in the United Arab Emirates November 6, instead of the usual display of his joy Iranian player Saeed Piramoun made a gesture of cutting his hair, a symbolic act in solidarity with women protesting forced hijab in Iran. With his goal Iran won the match against Brazil 2-1 and the championship of the competitions.
The "hair-cutting" gesture has become an international symbol of solidarity with Iranian women and the protest movement with many international athletes and celebrities posting images of themselves re-enacting the move.
Authorities have made serious threats against athletes and other celebrities to stop them from public displays of solidarity with protesters but to no avail.
Many Iranians have hailed Piramoun, an ethnic Baluch from the southeastern port city of Chabahar.
"These symbolic gestures attract global attention to the protests and hit [the regime] domestically," a tweet after the match said.
Another Twitterati opined that similar actions by sports teams and athletes may force the Islamic Republic to forsake the Qatar World Cup to avoid international disgrace. Iran will be playing its first match against England on November 21.
Without naming Piramoun in its statement Monday, Iran's Football Federation vowed to discipline those who display their political stances in sports arenas. "Those who have not abided by professional and athletic ethics," the statement said, would be punished according to regulations.
The federation's exhortation against involvement in politics is in stark contradiction with its own pressure on athletes to avoid competing with Israelis in international sports competitions, even at the cost of being eliminated from the games or losing titles.
Less than a month ago Supreme Leader Ali Khamenei praised Iranian athletes who refuse to play against Israelis, and said not competing with Israeli athletes is "a victory" in itself.
Piramoun was not alone in his protest action. His teammates had unanimously refused to sing along when the Islamic Republic's anthem was played before the semi-finals and at the awards ceremony. They stood with their arms crossed without showing any signs of celebrating their win. The state television (IRIB) hastily cut its live reporting short to prevent people from receiving the team's message of solidarity with protests.
Authorities have tried to distort the meaning of such gestures in other instances when individual athletes and sports teams displayed less obvious gestures of solidarity with protesters than Piramoun's, such as refusing to show any signs of celebration for scoring goals or winning games.
The state TV anchor last week claimed Esteghlal FC players' refusal to cheer when they won this year's Super Cup was a sign of respect for those killed in a shooting attack in Shahcheragh Shrine in Shiraz for which ISIS apparently took responsibility.
Many Iranians suspect the government of complicity with ISIS in the attack, in the least, to create its own narrative and martyrs. The Shahcheragh incident, they claim, was meant to distract attention from the opposition's protests and those killed in them or justify harsher suppression of the protesters who, the government claims, have caused insecurity in the country.