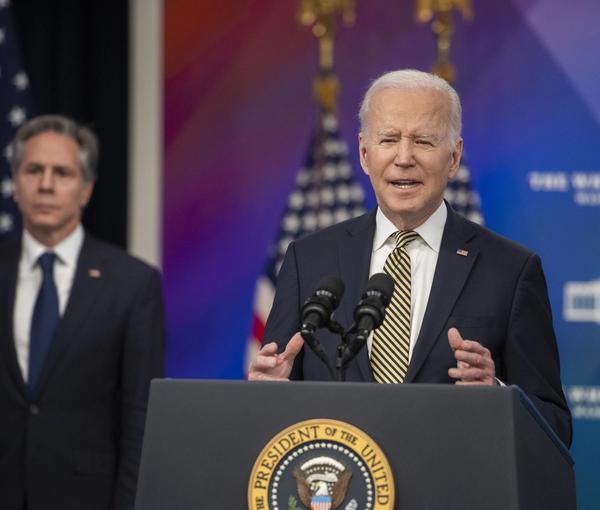 New US Push On Iran Sanctions Signals End Of Nuclear Talks
After reports that nuclear talks with Iran have ended, Washington tightened the screws by sanctioning several foreign companies involved in oil trade with Tehran.
Critics have been accusing the Biden administration of not seriously implementing sanctions imposed by former President Donald Trump, while negotiating with Tehran to revive the 2015 nuclear accord, the JCPOA. They argue that a substantial increase in Iranian oil exports to China occurred when President Joe Biden assumed office. This in turn made Iran more intransigent in nuclear talks that began in April 2021.
The latest warning came on September 23 from an advocacy group, United Against Nuclear Iran (UANI), opposed to the revival of the JCPOA. In a report UANI argued that since President Joe Biden's election, China has bought around $38 billion of crude oil from Iran in violation of US third-party sanctions.
The US State Department spokesperson Ned Price on September 28 evaded a question from Iran International during his daily briefing about the UANI report.
"I think what we can say with some confidence is that some of the open-source statistics have been inflated, and that is the case when it comes to certain reports of Iranian oil exports to the PRC," Price said when he was asked about the administration's response to the UANI report.
But the shipment of at least 750,000 barrels of crude per day to China has been reported by industry sources, news agencies and experts since early 2021, which triggered the warnings by critics of the administration's Iran policy. Although prices Iran charges small Chinese refineries is a secret and it is reported that discounts are offered, Iran must have earned close to $30 billion in this period by shipping 350-400 million barrels of crude to China.
Although this is far below the heyday of Iran's $100 billion annual oil export earnings around 2010, but it was sufficient to convince Tehran that it can weather the economic pressure while negotiating with the Biden administration.
Now, the Biden administration is left with no discernible Iran policy except tightening enforcement of sanctions, the same 'maximum pressure' strategy Trump was using when he lost the 2020 election.
In addition, a popular revolt against the clerical regime in Tehran has exposed the degree to which the rulers are willing to use violence against their own citizens, forcing the Biden team to impose new human rights sanctions.
The protests were triggered by the death in custody of a 22-year-old woman who received fatal blows to her head while being arrested for "inappropriate hijab". Both her killing and the ensuing protests have generated a high level of international support for the people in Iran, which can be a double nail in the coffin of the JCPOA talks.
A renewed deal would have released tens of billion of dollars for the Islamic Republic and in the current atmosphere of human rights violations by Tehran, signing a nuclear agreement that would lift sanctions and enrich the government, seems improbable.
The Biden administration has apparently reached the conclusion that Iran does not want a nuclear agreement, which would mean that the way it tried to revive the JCPOA simply allowed Iran to sell more oil and greatly advance its nuclear program. It calculated that maybe it can reach the nuclear weapons threshold and have enough income to survive.