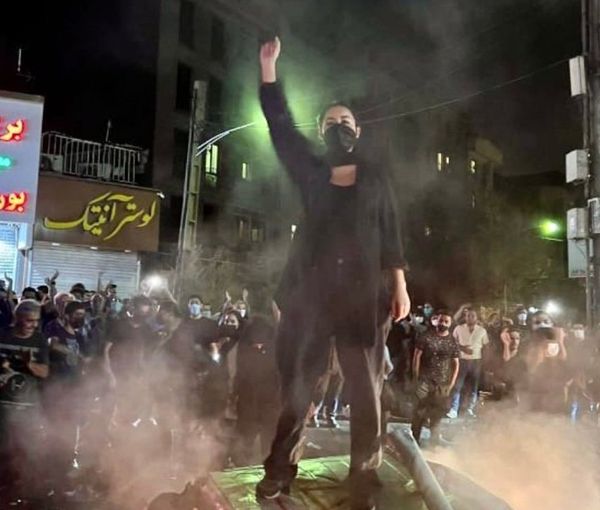 State Media In Full Swing To Misrepresent Iran Protests
Iran's state-run television (IRIB) said Saturday evening that so far 41 have been killed in the protests and claimed that Tehran and other cities were "quiet".
In its 20:30 special bulletin, the IRIB claimed that Tehran and many other cities had a "quiet night" while reports and footage on social media at the same hour indicated fierce protests confronted by security forces on the streets in the northern and western neighborhoods and suburbs of the capital.
Iran Human Rights (IHR) said Saturday at least 54 protesters had been killed by then. In many cases, handing over the bodies of the victims to their families was made contingent on agreeing to secret burials, IHR reported.
Protesters blocked roads, set fire to trash cans, and chanted slogans against the regime and the Supreme Leader Ali Khamenei who in his only public appearance Wednesday made no mention of the death of Mahsa Amini whose death in custody sparked the protests last Friday.
A video from Shiraz has captured the moment when an anti-riot police officer violently shoving a young woman and hit her head on the curb. Another video from Shiraz showing a young woman standing on a car with her hair falling on her shoulders and waving her headscarf leading the other protesters' chanting "Down with the Dictator" has gone viral on social media.
Internet and even phone lines have been completely cut off in Oshnavieh, a town of around 40,000 in northwestern West Azarbaijan Province, where protesters drove the Revolutionary Guards (IRGC) out of its barracks and seized three bases used by the Basij, a militia controlled by IRGC, taking control of the town, with Kurdish majority population, on Friday.
Very little is known about the situation in Oshnavieh, but informed sources told Iran international that military forces are surveilling the town and its surrounding villages with helicopters and drones while preparing to deploy to the area.
State media, officials, Friday prayer leaders, and pro establishment social media users in the past few days have tried to claim that protesters attack or torch ambulances and public transportation buses.
Protesters have published several videos showing security forces using these vehicles for getting close to the heart of the protests or transporting those they arrest such as a video from Mashhad that shows an ambulance driving into a police station.
They have also claimed that protesters have torched mosques, burned the Quran and set fire to a religious banner used in ceremonies to mourn Imam Hussain, a Shia saint.
Many protesters believe these were perpetrated by agents of the state to incite religious people. A popular former national football (soccer) team player, Ali Karimi, who lives in the UAE, has called on protesters not to attack banks, women clad in black veils, and respect the Quran.
"Don't join in with anyone who does these things because these are some of the plots of [regime agents to discredit] you my dear people," Karimi tweeted Thursday. Videos posted on social media show protesters chanting Karimi's name.
Authorities have resorted to what global Internet watchdog NetBlocks has called "curfew-style cellular network disruptions" to interrupt contact among protesters and leaking of footage from the protests. they have also restricted Instagram, WhatsApp, LinkedIn, and Skype as well as some popular videogames such as Clash of Clans the chatrooms of which could be used for communication among protesters, at the national level.
Hacktivists sympathizing with protesters have also been at work targeting the websites of the government and its affiliates including the website of the ministry of foreign affairs.