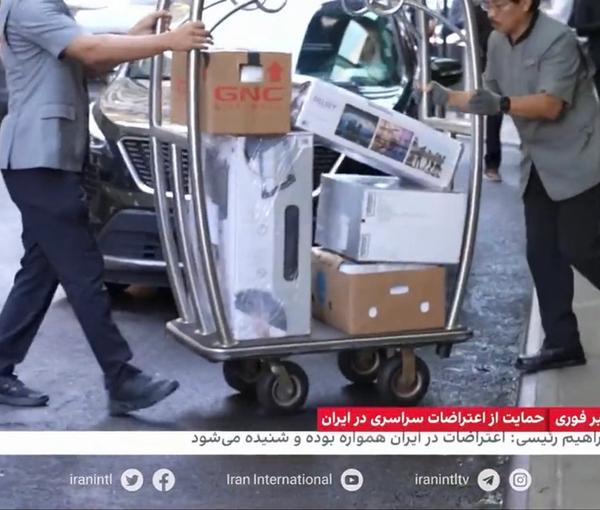 Iran's Delegation Leaving US With Truckload Of Souvenirs, Literally
Following a lackluster maiden participation at the UN General Assembly met by raucous decry, Iranian President Ebrahim Raisi and his huge entourage left the US with a truckload of souvenirs. 
Iran International reporters filmed workers of the Millennium Hilton Hotel -- where the Iranian delegation stayed -- loading a truck with luggage reportedly belonging to Raisi's retinue that went viral on Friday. 
Located a few steps from the United Nations headquarters, the Millennium Hilton is one of the most expensive hotels in Manhattan. In addition to the extravagant stay, people are talking about the packages that Raisi and his accompanying delegation took back to the country, which is a scene of fierce clashes between protesters and security forces.
Apart from suitcases, there were numerous newly wrapped packages of different kinds of goods that Raisi's team have obviously bought during their stay, such as home appliances and dietary supplements, as well as baby diapers and prams. 
In April, a trip to Turkey by the family of Iran's parliament speaker to buy baby clothes and accessories prompted calls for the resignation of Mohammad Bagher Ghalibaf, a seasoned professional in weathering scandals.
Ghalibaf's wife, daughter and son-in-law arrived at Tehran's Imam Khomeini airport from Istanbul with apparently a large layette set they bought in Turkey. While a 45-percent inflation and a nine-fold drop in the value of Iran's currency have impoverished tens of millions of middle-class people, the trip drew a barrage of criticism and made the hashtag 'SismuniGate' trendy, a portmanteau of the word for layette in Persian and the suffix for political scandals.