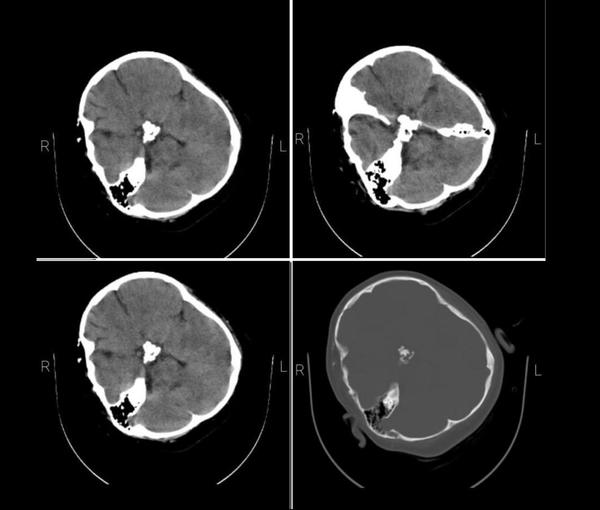 Mahsa Amini's CT Scan Shows Skull Fractures Caused By Severe Blows
The skull CT scan of Mahsa Amini, the Iranian woman who died in religious police custody, shows bone fracture, hemorrhage and brain edema, Iran International has learned. 
The medical documents and dozens of exclusive images sent to Iran International by a hacktivist group vividly show a skull fracture on the right side of her head caused by a severe trauma to the skull, which corroborate earlier accounts by her family and doctors about her being hit several times on the head, proving that the Iranian police's claim that she suffered a heart attack was untrue.
Images of her chest show bilateral diffuse alveolar hemorrhage and damage due to aspiration pneumonia, secretion retention and superimposed infection. Doctors say the results are compatible with acute respiratory distress syndrome due to brain trauma.
The 22-year-old woman's death in custody by the hijab police has led to indignation among Iranians and several anti-regime protests in different cities.
A source from the hospital where she died told Iran International on Saturday that her brain tissue was crushed after "multiple blows" to the head, adding that Amini was taken to Kasra Hospital in capital Tehran while she was not responsive and brain dead.
The source added that her lungs were filled with blood when she was transferred to the hospital and it was clear that she "could not be revived." 
This source emphasized that Mahsa's condition "was such that she could not be saved nor was surgery possible because her brain tissue was seriously damaged and it was clear that the patient was not injured by a single punch and must have received many blows to her head."