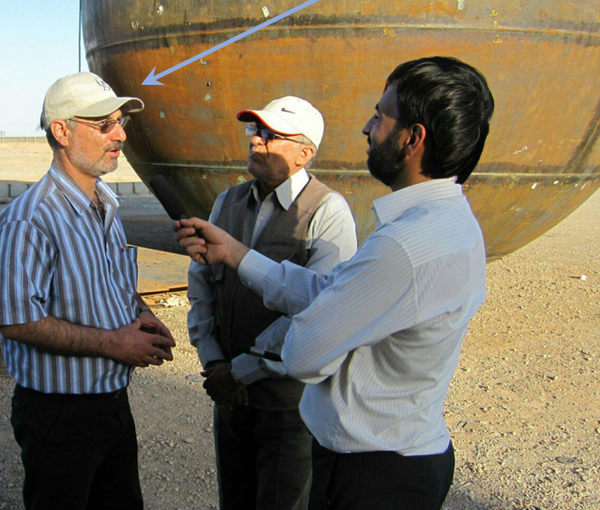 Long-Time Iranian Nuclear Weapons Expert Working On Detonators - Source
An Iranian specialist of nuclear detonators, who was previously working at a secret nuclear weapons development test site in Iran, is said to be still working for the defense ministry on nuclear weapons.
According to information obtained by Iran International, Saeed Borji is working to develop nuclear detonators for the ministry's Organization of Defensive Innovation and Research -- or SPND. 
A protege of the once-top Iranian nuclear weapons scientist and a senior member of Iran's Revolutionary Guard, Mohsen Fakhrizadeh -- who was assassinated in November 2020 – Borji runs a front company named Azar Afrouz Saeed Engineering Company, specializing in explosives. The company is a subsidiary of SPND. 
The explosives and metals expert for Shahid Karimi Group, also a subsidiary of SPND, has been associated with "possible military dimensions of the Iranian nuclear program," according to the International Atomic Energy Agency (IAEA), and has assisted SPND's efforts to procure equipment used for containing explosions.
Borji, who has a PhD in chemical engineering from Malek Ashtar University of Technology, has previously worked in Parchin military complex with Russian-born former Soviet scientist Vyacheslav Danilenko – with an extensive expertise in the development of nuclear detonators – and Vladimir Padalko on projects about explosive chambers for nuclear weapons. 
The Abadeh site is an important site for conducting large-scale high explosive tests for developing nuclear weapons under the Amad Plan, which was Iran's project during the early 2000s to build five nuclear weapons and later was reoriented to a smaller, better camouflaged nuclear weapons program. Abadeh was first identified as a weapons site in October 2019 by Israeli Prime Minister Benjamin Netanyahu. The site was built in the mid-1990s by companies controlled by the Islamic Revolutionary Guard Corps
The Abadeh site also called Marivan site in the southwestern Fars province, is one of the places that the IAEA found traces of undeclared uranium and demanded explanation from the Islamic Republic. Iran said the origin of the particles is "unknown" and insisted the site was used for "the exploitation of fireclay through a contract with a foreign company decades ago."
Borji was sanction by the United States on March 22, 2019 as a Specially Designated National (SDN) by the US Department of the Treasury's Office of Foreign Assets Control (OFAC) pursuant to Executive Order 13382, which targets proliferators of weapons of mass destruction and their delivery system. 
Late in July, two Telegram channels with links to IRGC suggested that Iran may build nuclear warheads "in the shortest possible time" if attacked by the US or Israel, which has repeatedly threatened in recent months to use all means at its disposal to prevent Iran from becoming a nuclear threat, and has said its armed forces are preparing for action if necessary.
"The nuclear facilities of Fordow have been built deep under mountains of Iran and are protected against trench-busting bombs and even nuclear explosion… all infrastructures required for nuclear breakout have been prepared in it," the video by Bisimchi Media (Radioman Media) Telegram channel said while adding that the facilities at Natanz may be highly vulnerable to a possible attack by Western powers and Israel but Fordow will immediately assume war footing and begin the nuclear breakout project within a short time if Natanz comes under missile attack.
EMAD, another form of an earlier weapons program, AMAD, refers to Iran's purported secret nuclear effort, which started in 1989 under the leadership of Fakhrizadeh and according to the UN nuclear watchdog IAEA, stopped in 2003. According to a IAEA director general's report in 2015, Iran specifically denied the existence of the AMAD Plan and the 'Orchid Office' as elements of such a program.
Iran has now enough uranium enriched to 60 percent purity and if further enriched to 90 percent, the fissile material will be sufficient for a nuclear bomb within a few weeks.