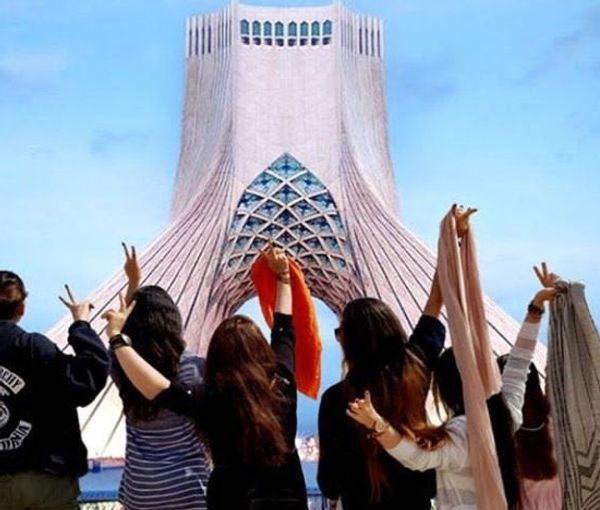 Loyalists Back Iran's Compulsory Hijab, Days After Women's Campaign
Friday Prayers Imams and loyalist politicians, even some "reformists" echoed the party line in support of the government's campaign promoting compulsory hijab.
The support for the government's ever-tightening hijab rules came after a July-12 campaign by women's rights advocates for a day without headscarves, dubbed "NO2Hijab".
Ahmad Khatami who often leads the prayers in Tehran said on Thursday in Qeshm Island in southern Iran that many criticize Iran's hardliners for ignoring astronomical salaries and hefty embezzlements of state officials and minimizing Islamic values to covering women's hair.
He said "a sin is a sin whether it is showing a flock of a woman's hair or stealing public funds. Both not wearing the hijab and stealing from the public are sins." Khatami further charged that those who do not respect compulsory hijab are not devoted Muslims. While making the statement, he probably did not realize that in most Muslim countries governments do not impose hijab on women.
He claimed that "hijab is a social problem all over the world. It is not an individual responsibility so that some people could skip fulfilling." Khatami added that not observing the compulsory hijab rule leads to the decline of family values and creates social insecurity.
Ahmad Khatami, a firebrand hardliner cleric. Undated
Criticizing those who say there is no official law against compulsory hijab in Iran, Khatami, a member of the Assembly of Experts, said that the Supreme Council of Cultural Revolution passed 300 articles of regulations in 2007. He said "Not covering women's hair is an idea propagated by the enemies of the revolution and the Islamic regime.
On Friday, imams in tens of Iranian cities including Mashhad, Gorgan, Hamadan and Esfahan promoted the party line about compulsory hijab and criticized the campaign against compulsory hijab as an action advised by Westerners. In Gorgan, Kazem Nourmofidi, the city's Friday prayers imam and Supreme Leader Ali Khamenei's representative to Golestan Province said in a comment with an implicit threat about cutting payments to women with bad hijab that women who work for the government and are paid by the government should observe the compulsory hijab rules more rigorously.
Meanwhile, in a bot-assisted campaign on social media, Iran's hardliners "amplified" and "trended" the Persian hashtags "Chaste Iran" with more than 56,000 tweets and "Gem of Chastity" with over 15,700 tweets. This comes while many Iranians on social media supported last week's campaign against compulsory hijab. Some of them on Friday morning harshly criticized former parliamentary speaker Mehdi Karroubi who spoke in support of compulsory hijab in a rare public appearance from his home where he has been under house arrest for 11 years for opposing the rigged presidential election in 2009.
Former hostage taker and now a "reformist" politician, Massoumeh Ebtekar
Another reformist figure who came out in support of compulsory hijab, at the same time criticized the government's chastity squads for lining up "bad-hijab" women and taking their photograph like criminals. Former vice president for women affairs Massoumeh Ebtekar also claimed that Khamenei is against using violence against women and further opined that the Iranian Constitutional Law is silent about the issue of hijab.
In a move probably to cover herself for her minimal criticism of the government, Ms. Ebtekar, one of the 1979 hostage takers at the US Embassy in Tehran, said the policy to punish women for not wearing the compulsory hijab is a legacy of former ultraconservative President Mahmoud Ahmadinejad's administration.