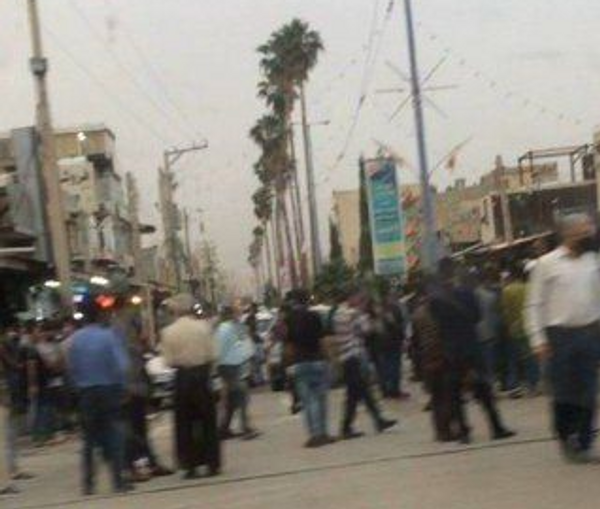 Iranian Security Forces On Alert Over Bread Protests
Security forces in Iran are on high alert to prevent unrest over rising bread prices, as unrest has been reported in Khuzestan Province in the past two days.
According to some social media reports and videos, security forces used tear gas in Sousangerd and Izeh, Khuzestan, to disperse protesters Saturday evening. Social media users have also reported security forces' use of firearms and extensive arrests of activists in some cities of the oil-rich province.
Khuzestan has been the scene of widespread protests in the past few years. Protests over water shortage in July 2021 lasted for over a week during which at least eight protesters were shot dead by security forces.
For nearly three days, authorities have shut down or slowed down mobile internet access in some cities in Khuzestan including Sousangerd, Behbahan, Abadan, Ahvaz, and Hamidieh. Internet disruption came after a call to protest began circulating on social media Thursday.
Security forces have a visible, large presence in various towns and cities of Khuzestan, the reformist Eslahat News reported Sunday. The website also said local authorities are not offering any explanation for the disruption to the internet and text messaging services.
Verifying the reported protests in Khuzestan cities since Thursday has proved difficult as very few videos have been distributed. By shutting down mobile internet and reducing the speed of broadband, authorities have ensured videos of protests will not spread on social media or be shown by foreign-based media outlets.
The Student Basij, a pro-government student union affiliated with the Revolutionary Guard, warned President Ebrahim Raisi Thursday that the abrupt end to flour subsidy could cause unrest. "The society is not prepared for this level of price increases and this level of disorganization in its execution," the union said in a letter to Raisi.
The hike in the price of bread is a result of a government decision to scrap the subsidy for imported wheat, flour and other essential items. The higher cost of flour is also affecting a wide variety of breads, cakes and pastries including children's snacks, fast food such as hamburgers and sandwiches, and traditional soup noodles.
A video showing protests in Khuzestan on Saturday
Authorities have been making contradictory statements about the new prices, manner of direct payment of cash subsidies to people for bread, and the time of the implementation of their plans.
In a meeting with representatives of businesses and trade associations Saturday evening, Raisi denied having any secret plans to remove the subsidies of basic commodities and insisted that he only wants to reform the subsidy system, giving the money directly to people to prevent alleged corruption.
"People [in Khuzestan] are angry because they don't know what is happening and the authorities are not talking [about their plans], or even worse, making unacceptable excuses," an unnamed civil activist told Emtedad News.
"One of the justifications for the hike in bread prices was claiming it was being smuggled [to neighboring countries] which was very senseless and angered people even more," he said referring to officials' claim that increasing the price would prevent smuggling of flour and flour-based products such as pasta to neighboring countries where they are much more expensive than in Iran.
Some politicians and experts on Sunday mocked the government claim of trying to prevent smuggling, saying that this is an excuse often used by officials to justify their own economic failures.