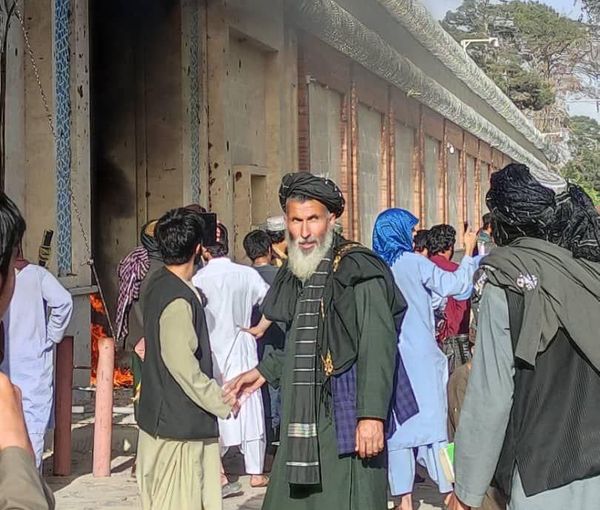 Afghans Attack Iran's Consulate In Herat Over 'Mistreatment Of Refugees'
Protestors Monday attacked the Iranian consulate in Herat, Afghanistan, hurling stones, smashing security cameras, and burning tires before they were dispersed by Taliban security.
Iranian foreign ministry spokesman Saeed Khatibzadeh called on Taliban officials to ensure the security of Iran's embassy in Kabul and its missions across Afghanistan. He warned of efforts on social media to whip up anti-Iranian sentiment over alleged mistreatment of Afghan immigrants in Iran.
Sectarian tensions have risen since last week's killing of two Shia clerics in Imam Reza shrine, Mashhad, attributed to Sunni extremists. Many Afghans are in Iran unofficially, with numbers increasing since the Taliban took Kabul last year as the United States ended its 20-year military presence.
A conservative newspaper in Tehran claimed Thursday that 8 million Afghans were in Iran, and that the Mashhad knife attack reflected Iranian authorities' lax approach in allowing violent extremists amid refugees. Jomhuri Eslami reminded readers of the Taliban's past anti-Shia animosity and said there was no difference between the group and Isis-Daesh, the Islamic State group.
Earlier on Monday, demonstrators outside Iran's embassy in Kabul held banners with pictures of refugees and the words "Isn't Afghan a human being?"
Ambassador Bahador Aminian met in recent days with Afghan acting foreign minister Amir Khan Muttaqi and former president Hamid Karzai, presumably to further Iran's hopes of a broad-based government.