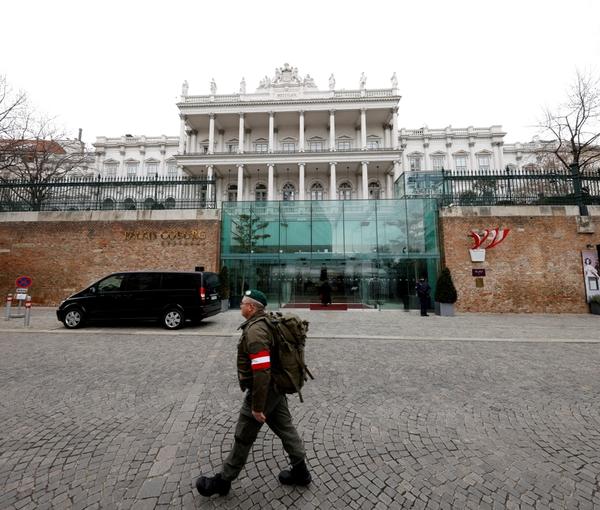 Iran Hardliners Acknowledge Moscow's Role In Delaying An Agreement
Hardliners in Tehran are coyly beginning to acknowledge that Moscow has a role in the abrupt halt to the Vienna nuclear talks by presenting its own demands.
So far Iranian officials have refrained from openly acknowledging that the pause in the talks announced by EU on Friday has anything to do with Moscow's demand to receive exemption from Western sanctions on Ukraine in relation to its ties with Iran. They have continued to blame the US for not reaching an agreement which last week appeared to be very close at hand.
In an interview with pro-Iran Al-Mayadeen television Friday, the media advisor of the Iranian negotiation team, Mohammad Marandi, said no definite date has been set for a return to the talks. Marandi avoided saying whether Iran backs Moscow's demands and accused the US and European powers of not being prepared to lift the sanctions on Iran.
"Moscow wants guarantees from the US and other Western countries, not Iran," he said.
But some hardliner media and a website affiliated to the Secretary of Iran's Supreme National Security Council Ali Shamkhani on Saturday offered hints of Tehran's frustration with Moscow seeking a loophole through which it can escape sanctions pressure.
An unattributed commentary in Javan newspaper which is linked to the Revolutionary Guards on Saturday said, "nobody is officially saying what differences caused the halt in the talks" but added that "one can presume that the biggest challenges now are caused by Russia and the US unlike the previous times when they were posed by Iran."
Javan commentary reiterated that the inflexibility of the United States poses the biggest challenge to a deal but said the "Russia's demand for guarantees for future trade and military relations with Iran after a possible deal, a position which Iran does not strongly oppose, forms part of the differences."
Nour News website which is believed to be Ali Shamkhani's mouthpiece in another unattributed commentary Saturday entitled "America's Sleight With Tools Exceeding Negotiations" also pointed the finger at the US for stalling the talks by refusing to accept Iran's demands and acknowledged Moscow's demand as "a new issue and unpredicted factor" in the talks, but said Iran "backs Moscow's approach".
Unlike Javan, the Nour News commentary claimed in clear terms that Tehran "backs Moscow's approach" and argued that saying negotiations have ended and a final text has been prepared, as European negotiators say, was "a wrong surmise".
Nour News accused the Western parties in the talks of emphasizing and attributing the difficulties in the talks to Russia's new demand for guarantees, to avoid accepting Iran's own demands.
"Although the Russian request can introduce a new agenda to the negotiation table as a new issue and an unpredicted factor, the main hitch in the talks which results from a lack of political decision by the US to respond to Iran's demands has remained unresolved. Therefore, one can't speak about Russia's request as an obstacle that prevents an agreement," Nour News said.
In Tehran some reformist media which accuse Moscow of taking the Iran deal hostage to their own interests have even accused Moscow of throwing an obstacle in the path of an agreement in coordination with Tehran's archenemy, Israel.
"The war [in Ukraine] showed that there is a marked synchronization between Israel and the Kremlin in all dimensions and this cooperation even includes Israel's concerns over a nuclear agreement with Iran in Vienna," a commentary in reformist Etemad newspaper said Saturday and asked if there could be a connection between the Israeli Prime Minster Naphtali Bennet's recent visit to Moscow and the abrupt pause in the talks.