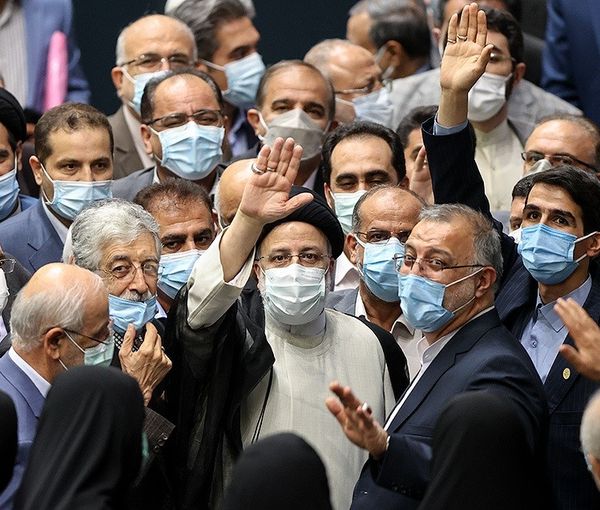 Blaming Iran's Problems On Rouhani Will Backfire, Says Pundit
A leading conservative commentator in Tehran says some statements by President Ebrahim Raisi's supporters to help him, might damage his popular support base.
In an interview with the conservative news website Nameh News, Mohammad Mohajeri said, "Some statements made by the government's supporters enrage the people," adding that "When people become angry their demands will increase, and this is costly for the government."
Hardliners recently often highlight multiple crises Iran faces, as a way to say that Raisi's job is hard, and people should be patient. But the negative comments reflect badly on the regime itself, which many people see as incompetent.
Mohajeri was also talking about cases such as a lawmaker who told people not to listen to music or buy musical instruments and to leave the country if they don't like the restriction. Other cases include statements by Labor Minister Hojjat Abdolmaleki who said he is not responsible for creating jobs.
Conservative pundit, Moammad Mohajeri.
Other examples of outrageous statements by hardliners include Mashad Friday Prayers Imam Ahmad Alamolhoda saying those who criticize clerics in the government should be punished for throwing stones at the prophet or the cleric who said on the state television that every Iranian couple should have 14 children. Even Supreme Leader Khamenei's chief political adviser Ali Akbar Velayati said people in Iran should wear aprons like the Yemenis and eat nothing but dried out bread.
Mohajeri said: "Some of the government supporters want a change in the people's lifestyle to reduce pressures that are being exerted on Raisi to solve [the current economic] crisis. But theseremarks prompt the people to have a negative attitude toward the government."
"Some of those who make such statements about people's private life are the members of the ultraconservative Paydari party who say these things only to milk the government. They are telling the government indirectly: Give us our share [of wealth and power]!" and we will defend you, said Mohajeri.
Another group of supporters are Raisi's uneducated friends, he said. "They think they are helping the government by making those outlandish remarks, but they are not aware that these statements backfire and will make Raisi's weak government even weaker," he said. "We know that Raisi was elected in a low-turnout election and enjoys very little social support."
The third group, said Mohajeri, are Raisi's real supporters. "They make these comments deliberately as they think they are still campaigning in the elections. What they do is magnify problems they say the previous government created" and blame the Rouhani administration for the country's multiple crises. "What they ignore is that the Raisi has been in office for six months now and the people are more likely to lash out at his administration for shortcomings," Mohajeri argueded, adding that sometimes claims made by this group are not true in the first place.
The commentator added that these three groups have different intentions. Yet the outcome of what they say is the same because whatever they say will eventually weaken Raisi, while he may not realize this and think that they are exerting pressure on his political rivals.
"There is an expiration date for comments that blame the previous government for the country's problems. After a while, nobody will believe them," Mohajeri noted, as people tend to demand solutions from those who are in charge.
"Blaming the previous government will only increase people's anger. And when they are angry, they demand things more insistently, and this will be even more costly for the current administration," Mohajeri stressed.