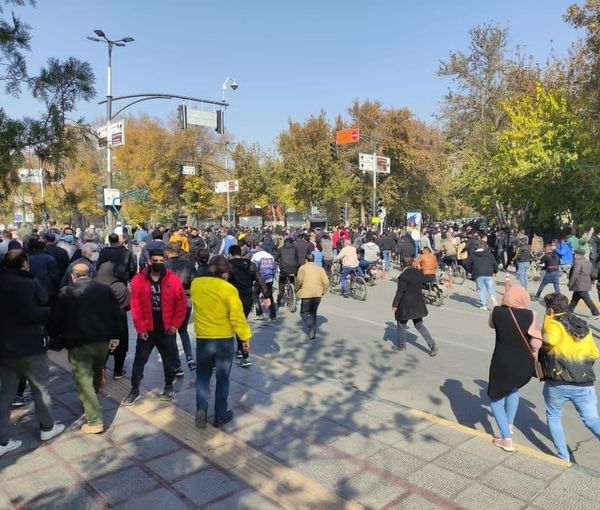 Water Protests Turn Into Anti-Government Unrest In Esfahan
Protests in Esfahan Friday continued into the evening with clashes between protesters who chanted anti-regime slogans and security forces who attacked them.
Protests started Friday morning in the dry bed of Zayandeh Roud where farmers had been protesting for over two weeks but spread to the other areas of the city after security forces drove them out.
Videos posted on social media Friday afternoon showed protesters angrily chanting slogans against Supreme Leader Ali Khamenei, clerical rule, and security forces in some instances, they clashed with them. "We are here to fight, fight us and we will fight you back," they chanted in one place while in another they shouted "Death to the Supreme Leader" and "Blessed be your soul O' King" referring to Mohammad Reza Shah Pahlavi who was deposed by the Islamic Revolution of 1979.
In two videos posted on social media, a woman is seen unconscious on the ground with blood on her face and in another a man is fallen on asphalt while the person recording the scene on video said he was shot dead. In another video three men are shown at a hospital emergency room with bloody bandaged heads, apparently hit with batons, while medical staff tend to them. Social media users also claim many were injured with birdshot fired from shotguns.
"It was the police who did this, don't go and claim later that they were thugs and hooligans," a wounded old man in one of the videos says. Authorities often refer to anti-government protesters as "thugs and hooligans".
The videos also show several riot police beating a protester with batons and kicking him, men and women with bloody heads and faces and an old man with multiple birdshot wounds on his back.
The regime is in crisis and this crisis is not limited to Esfahan and its water problem, Saeed Madani, social researcher in Tehran, told Iran International. Farmers in Esfahan protested peacefully in the most civil manner, they did not even take to the streets, instead they chose the dry riverbed and used their constitutional right to protest in the most logical way and were supported by a good number of other citizens also affected by water shortage, he added.
"The authorities showed some tolerance at first but sadly yesterday and today they showed their usual response, the same [violent] response as in Khuzestan and other places," Madani told Iran International.
From around 6:00 PM, there have been reports of mobile internet shutdown and slowing down of wi-fi internet to prevent videos of the protests being posted online. One video posted on Twitter shows drivers honking their horns repeatedly on the streets in protest after dark.
The state-run television (IRIB) showed a scene of the protests Friday morning where people chanted against the IRIB and called it a disgrace. The report said security forces had had to use tear gas to disperse protesters which it claimed were a small group. The report also insisted that farmers protesting water shortage had ended their protests Thursday and were not involved in Friday's protests.
The government's tolerance for civil and environmental protests is limited and they always resort to violence when protests reach a point when they fear the unrest could spread, Iran International's journalist and analyst Morteza Kazemian says. "It's incapable of a logical and professional response," he said.
Kazemian cited the remarks of the Friday prayer imam of Mashhad, Ahmad Alamolhoda, the father-in-law of President Ebrahim Raisi, as an example who said water shortage would not be solved by rallies and protests. "Rallies against god will not work. Rallies must be to pray for rain,", Alamolhoda, Khamenei's powerful representative in Khorasan-e Razavi Province said.
"How water resources should be managed is something the authorities have no answer for," Kazemian added.