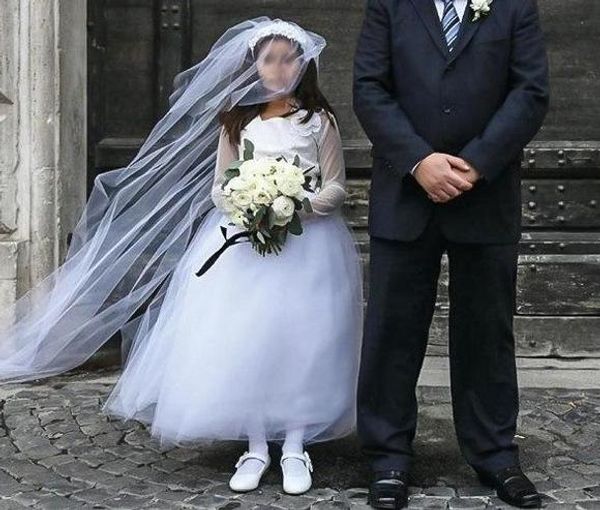 Iranian Child Brides At Record Numbers
Child marriage has risen over 30 percent in Iran this year from the same period last year, with 9,750 girls aged 10-14 officially wed in a three-month period.
Figures published by Iran Statistical Center (ISC) relating to the first three months of the Iranian calendar year (March 21-June 20 2021), are the highest for child marriages recorded in a single quarter.
The Iranian Student News Agency (ISNA) in a detailed article Monday said that the numbers published by ISC reflected only registered marriages and not unregistered ones, which are common in rural areas.
Over 54,500 teenage girls above 14 also were officially married. Marriages of boys under 18 − considered 'underage' internationally − were far fewer, with only six cases registered for boys under 15 and 6,500 for males between 15-19.
For years the issue of underage marriage has been debated in Iran, with many clerics and religious politicians defending marriages of girls under 15. Proposed legislation to forbid marriage in for girls under 14 has been pursued unsuccessfully even in relatively more reform-minded parliaments.
Fathers are required in law to agree to the marriage of daughters younger than 13, while a religious court must also certify that the girl is ready physically and mentally, and that she agrees to the marriage. ISNA claimed that judges often seek only the father's consent and disregard the other requirements.
One major reason for the rise in underage marriages is the current economic crisis where poor families struggling to take care of children see early marriage as a better option. There is a government cash grant of around $400 for marrying couples, which acts as an additional incentive.
There are also many reports from officials and in the media of parents receive money for agreeing to wed underage girls, often to far older men. The vice-president responsible for women's affairs, Ansiyeh Khazali, who does not oppose all underage marriage, recently said that money played a big role.
The wide gender imbalance − with 9,750 under-14 girls marrying as against only six boys under 15 and 6,500 males aged 15-19 − in the SCI figures suggests many child brides went to men in at least their 20s.
Reports in Iranian media have indicated that there are growing cases of "child divorce" and children giving birth. ISC figures from the same three-month period showed 293 babies born to girls under 15, with two ten-year-old and seven 11-year-old mothers. In total, 747 babies were born to mothers aged 10-14 in the first six months of the year.
Although child marriage in Iran is less common than in Africa and some parts of Asia, human rights groups have criticized the practice and highlighted individual cases.