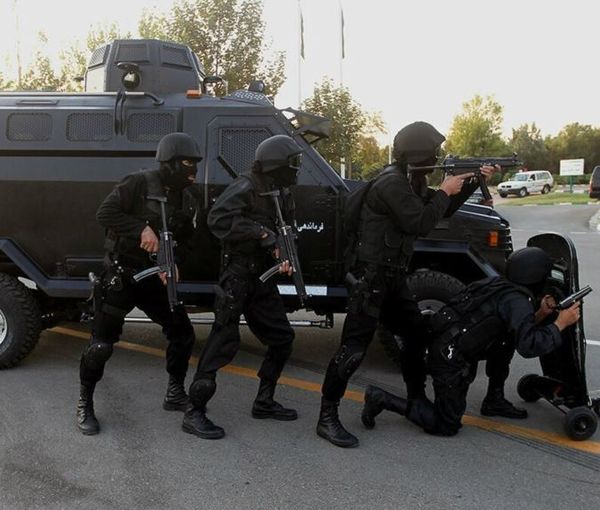 Iran Often Uses Lethal Force Against Protesters, UN Rapporteur Says
The UN Special Rapporteur for Iran said in a report on Monday that Iran often uses lethal force against protesters exercising their right to peaceful assembly.
Javaid Rehman, who has not been allowed to visit the country, pointed to live ammunition used during water protests in the south-western province of Khuzestan in July, when he said at least nine people including a minor were killed and others injured.
Many international human rights organizations, experts, the media and some governments have accused Iran of killing hundreds of protesters since late 2017, using military ammunition.
Zahra Ershadi, Iran's deputy ambassador to the UN, said that such reports "only aim to use human rights as an instrument against other countries" and that Rehman had used information provided by "terrorist groups" and "sworn enemies of the Islamic Republic."
Ershradi said the appointment of a special rapporteur for Iran – since the 1980s one of few countries to be so investigated – had been an initiative of the West, especially Canada. Reflecting Iran's common approach of alleging double standards, Eshradi cited recent discoveries in Canada of mass graves of indigenous childrenforced to attend residential schools.
UN Special Rapporteur for Iran Javaid Rehman.
Kazem Gharibabadi, Secretary-General of Iran's Human Rights Office, said Rehman's report was "ill-intentioned" and "a completely political and diversionary measure."
The Special Rapporteur's report said Iran's use of torture, reliance by courts on confessions, and "other fair trial violations" had led him to conclude that the use of the death penalty amounted to "arbitrary deprivation of life." Rehman cited Kurdish prisoner Amir-Hossein Hatami, who died after allegedly being beaten by prison officials, and the death of Shahin Naseri in custody in September. Naseri was a witness in the case of former cell-mate Navid Afkari, executed last year after alleging he had confessed under duress to murdering a security guard during protests.
"Arbitrary" grounds for a death sentence could turn the punishment into "a political tool," Rahman argued. While a large number of executions in Iran are carried out for drug offences, Rehman criticized three vague security charges that can carry the death penalty: moharebeh ("waging war against God"), efsad-e fel-arz ("corruption on earth") and baghy ("armed rebellion").
The UN Special Rapporteur said he was disturbed by the sentencing of juveniles (under 18s) to death and said it was "imperative" for Iran to undertake criminal law and justice reforms beginning "most urgently" with a moratorium on the death penalty for juvenile offenders.
Rehman was appointed in 2018 as the third Special Rapporteur for Iran since the re-establishment of the mandate in 2011 after a nine-year interval. His mandate was extended by the United Nations Human Rights Council (UNHCR) on March 24.
The first Special Rapporteur on Iran, Venezuelan Andrés Aguilar, lasted two years after he was appointed in 1984, resigning over Tehran's refusal to cooperate. Reynaldo Galindo Pohl El Salvador, who took over, visited Iran three times between 1990 and 1992 but resigned in 1995 when barred from returning. He was succeeded by Maurice Copithorne, a Canadian lawyer, who was Special Rapporteur until 2002.