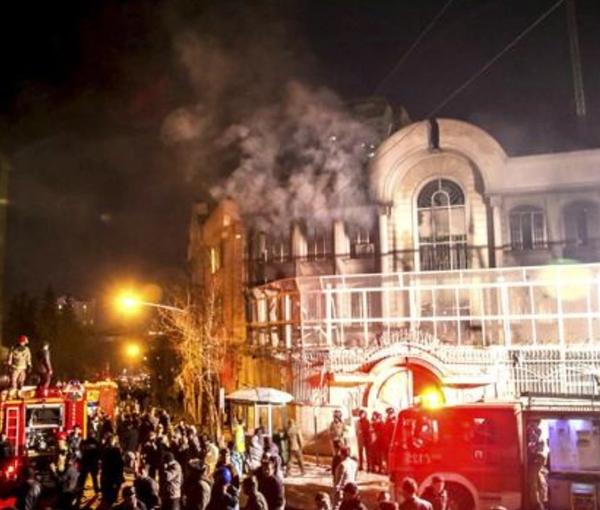 Iran, Saudi Arabia Reportedly Get Ready To Re-Open Embassies
Arabic Post claims Saudi Arabia and Iran are well into preparations for the mutual reopening of embassies and consulates, which have been closed since 2016.
The London-based news site cited an "Iraqi diplomatic source" and "Iranian sources." The latter, said Arabic Post, claimed Saudi Arabia had sent a team to Iran to renovate and update security and technical systems in its Tehran embassy and Mashhad consulate, and that Iran had sent a security delegation to prepare its Riyadh embassy and Jeddah consulate to for re-opening.
Arabic Post also claimed its Iranian sources had confirmed that managing talks with Saudi Arabia had been transferred from the foreign ministry to the Supreme National Security Council and its secretary, Ali Shamkhani.
Riyadh closed its embassy and cut diplomatic ties with Iran in 2016 after protestors stormed the Saudi embassy in Tehran in protest at the Saudis executing 47 dissidents including leading Shi'ite cleric Sheikh Nimr al-Nimr.
Foreign Ministry Spokesman Saeed Khatibzadeh declined to confirm Monday that a Saudi delegation would be visiting Tehran to prepare the embassy.
4th round of talks
Saudi Arabia announced Sunday it had held September 21 its direct talks with the new government of President Ebrahim Raisi (Raeesi). This was the fourth round of Iraqi-brokered talks that began in Baghdad in April as Iran also opened talks with world powers in Vienna over reviving its 2015 nuclear deal, the JCPOA (Joint Comprehensive Plan of Action) from which the US withdrew in 2018.
In a press conference in Riyadh with European Union foreign policy chief Josep Borrell October, Saudi Foreign Minister Prince Faisal bin Farhan al-Saud said discussions were at an exploratory stage: "We hope they will provide a basis to address unresolved issues between the two sides and we will strive and work to realize that."
Prince Faisal reiterated Saudi concerns over Iran's "transgressions" in its nuclear program. Iran in turn called for Riyadh to open its nuclear sites to full inspections by the International Atomic Energy Agency (IAEA).
Iran has not commented specifically on the latest round of meetings, although the spokesman Khatibzadeh described talks with Saudi Arabia as "optimal" Monday and said neither side had set preconditions.
Raisi priority
Raisi and his foreign policy team have several times emphasized a priority in improving relations with regional countries. The challenge with Saudi Arabia lies in overcoming rivalries in Iraq, Syria, Lebanon, and Yemen, where Riyadh and Tehran are allied with rival or warring parties. Official of both countries have recently cautiously expressed optimism over normalizing diplomatic relations.
Several world powers have welcomed Saudi-Iran talks. Riyadh this year became a dialogue partner of the Shanghai Cooperation Organization, which Tehran is now joining as a full member. While allied with Iran in supporting Syria's President Bashar al-Assad, Russia has recently reached a military agreement with Saudi Arabia, while China is a major oil customer of both Iran and Saudi Arabia.
The US Special Envoy for Iran Robert Malley tweeted Monday welcoming Saudi Arabia's "announcement of direct talks" with Iran, expressing hope that dialogue would "contribute to de-escalation of tensions & address long-standing regional concerns," and suggesting "full, mutual return [of Iran and the US] to JCPOA would support these regional efforts."
The British Ambassador to Iraq, Mark Bryson, in a meeting with Iraqi National Security Adviser Qassem al-Araji Tuesday said London welcomed the dialogue and expressed hope it would expand to include all regional countries.